History
The original charter for Rice prohibited the University from incurring debt. The charter was amended in 1998 permitting Rice to issue its first debt, a long-term tax-exempt issuance, in 1999. The current debt portfolio is almost entirely comprised of taxable debt, with the series 2010B variable rate debt and commercial paper being the remaining tax-exempt issuances. Most of the debt issued by Rice has been in the form of long-term debt to be repaid in the future. But Rice has also been the beneficiary of generous philanthropy for several buildings built on campus. Many of these buildings were funded entirely by gifts and Rice used commercial paper as short-term bridge financing to fund construction costs and later paid off the commercial paper when pledge payments were received. Debt has helped finance numerous world-class facilities at Rice, thus enabling expansion of academic operations and student enrollment. Such facilities include:
Academic buildings such as McNair Hall, home of the Jesse H. Jones Graduate School of Management, and the Humanities Building;
Residential buildings such as Martel College, McMurtry College, Duncan College, Graduate Apartments, Wiess College;
Athletic and recreation facilities such as Reckling Park, Tudor Fieldhouse, Brian Patterson Sports Performance Center, and Gibbs Recreation Center; and
Research buildings such as the BioScience Research Collaborative Building and Brockman Hall.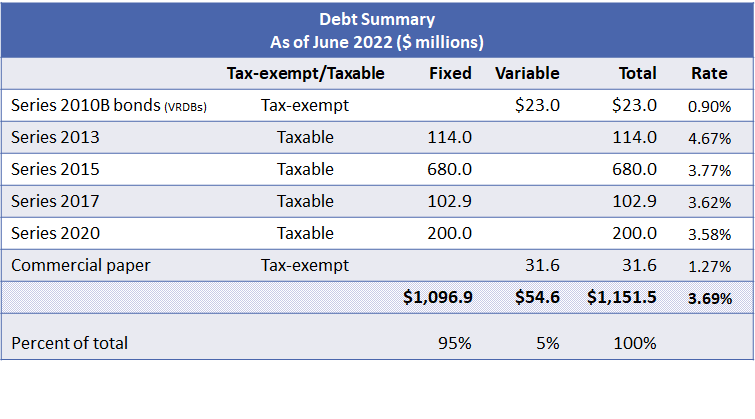 Credit Ratings
Rice's strong financial position has resulted in the highest long-term credit rating from both Moody's (Aaa) and Standard and Poor's (AAA) for our debt program.
Additional Detail
For additional detail on Rice's debt program, see the audited financial statements below.
Fiscal Year 2022 Audited Financial Statements